Our Firm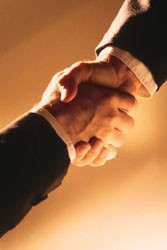 Easier, Better, Simpler!
At Franke Martens Group we work as a team to create succession, protection, and retirement plan strategies to help make life easier - for you, your family, and your employees and their families.
Transforming your current goals into long term financial security may seem like an uphill struggle. At Franke Martens Group we strive to make it easy. We listen carefully, explain completely, plan totally, and empower you to build a bridge between today's financial goals and tomorrow's accomplishments.
                                  Would you like to hear an expert explain things in plain English?

Jim Franke and Traci Martens are experts who can and do.
Traci's communication skills help you and your employees understand and take advantage of current law changes to maximize your benefits. Being a former educator, Jim is gifted at breaking down complex ideas and making them understandable.
Together, Jim and Traci provide you with a comfort level - they genuinely care about your welfare, and it shows in the quality of service they provide.
Franke Martens Group. A great place to turn for all your planning needs.
Why go anywhere else? 
.
.